I've been thinking about this for the last two or three years ...

The discipline, time management and energy needed to function as a principal dancer,and do another job, is incredible.

I'd love to dance forever, but I want to leave when I am still giving performances on a high level.
I don't want people to see me eroding in front of their eyes.
這是今夏要告別ABT舞台的Ethan Stiefel所說的話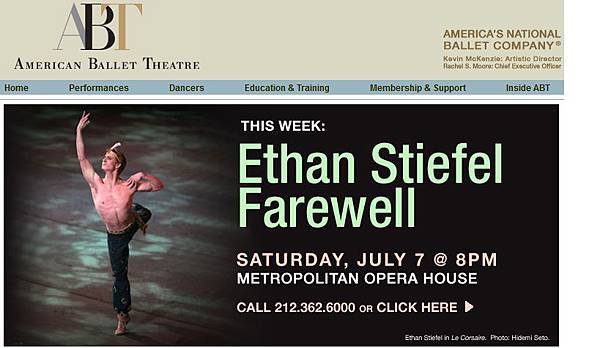 2012-0707 紐約大都會劇院
Ethan Stiefel在"Le Corsaire"公演的最後一天 以Ali的角色告別ABT
這位在電影Center Stage中演出 而廣為全世界舞迷所知的ABT最高舞星
從此將專心於紐西蘭芭蕾舞團的藝術總監的工作吧
有關他告別舞台的離別報導及照片 晚點再看看
以下先貼先前的相關報導 做為參考
Le Corsaire — American Ballet Theatre
Saturday, July 7, 2012, 8:00 pm - 10:28 pm
Cast
Conductor: David LaMarche
Medora: Gillian Murphy
Conrad: Marcelo Gomes
Ali: Ethan Stiefel
For my reference:
Golden Boy
"Le Corsaire"
American Ballet Theatre
Metropolitan Opera House
New York, NY
July 2, 2012
by Mary Cargill
http://www.danceviewtimes.com/2012/07/golden-boy.html#more
ABT premiered its version of the Petipa/various hands "Le Corsaire" in 1998; its pirates and pashas owe more to Gilbert and Sullivan than to Byron and it was great fun then, and it is great fun now. Ethan Stiefel was Conrad, the pirate king, in the second performance, and among the corps were Gillian Murphy, Marcelo Gomes, and Stella Abrera. These three were among the leads as Stiefel gave the first of his final two performances at ABT as Ali, the loyal slave to Conrad, who get the turquoise harem pants and one of the most famous men's solos in ballet. Stiefel, one of ABT'smost exciting men (and that is saying a lot), has been curtailing his dancing for the past few seasons, due to injuries, and these two Ali's were his only roles this season, so the audience was packed with Stiefel afficianados. He looked incredibly youthful, and danced the solo with the clarity and sharpness of old, with beautiful, soft landings, and some extra hops in the turns a la seconde.
The rest of the cast was certainly on their game, with Marcelo Gomes as Conrad, Gillian Murphy as his beloved Medora, Stella Abrera as her buddy Gulnare, Craig Salstein as the traitorus Birbanto, and Sascha Radetsky as the cowardly Lankendem. Conrad doesn't have much to do--Petipa's hero was the old stand-and-look-noble type, and his choreography was added later, by lesser hands, and consists of jumping, and miming "well, here we are in the middle of the square, so lets dance". But Gomes, just this side of a cartoon, made him lively and fun, and his partnering was noble and generous. Medora gets a number of solos, and Murphy was scintilating. She has always been a scrupulous dancer, clear and sharp, but this season she seems much warmer, opening her face to the audience, without any arch over-acting. She was playful with the Pasha, ardent with Conrad, and whipped off some killer fouettes, throwing in triples and bringing her arms up in a perfect en courant shape seemingly at will.
Stella Abrera is a bit tall Gulnare's little flicks and kicks and delicate changes of direction, but she got the gentle pathos of her solo (which apparently lasts until she can rip of some glorious turns, after which she cheers up.) Craig Salstein gave Bribanto a weight and a brooding menace that the rather generic choreography denies him. (If ever there was music that said "mime scene", it is his.) And Sarah Lane, as one of the odalisques gave her solo a beautiful, fluttery accent. The most unforgettable section of the ballet, the Jardin Anime, with its luscious Delibes music, may be utterly extraneous to the convoluted plot, but is one of the most beautiful of abstract ballets, and is always welcome.
But the audience really wanted to cheer Stiefel, to thank him for so many fine performances. His open-hearted, direct performance style seemed so fresh, and I especially remember his shy sailor in "Fancy Free", with his slightly awkward braggadocio, and his "Apollo", with his brashness tamed by art. He was elegant in abstract roles, as well, and was so effortlessly gracious as the partner in Balanchine's "Allegro Brilliante". There are so many other memories--the unbelievably handsome Solor, his heart breaking in the last act, and the remorseful Albrecht, dancing his heart out, and the poor, deluded Siegfried, so buoyant in the third act. If there is one word to described his dancing, for me it would be honest; there was never anything fussy or finicky about his movement, just clear, unadored dancing; a truly golden performer.
With Two Retirements, a Ballet Era Ends
By ROSLYN SULCAS
Published: June 29, 2012 The New York Times
http://www.nytimes.com/2012/07/01/arts/dance/angel-corella-and-ethan-stiefel-move-on-from-ballet-theater.html?_r=1
THEY have been the Apollo and Dionysus of American Ballet Theater. Ethan Stiefel is fair, elegant, a superbly refined classicist whose dancing retains an innate purity and clarity of line even in virtuoso display. Angel Corella is Latin, full of fire and bravura, a dancer whose technical feats and intense presence can make audiences leap to their feet with delight.
Both have had high-profile careers as signature principal dancers at Ballet Theater since the mid-1990s, rising to prominence as part of an extraordinary generation of male ballet stars. Their relative merits have been passionately debated by critics and fans as they frequently shared roles, ballerinas and sometimes a stage — most thrillingly in "Le Corsaire," in which they would alternate in the roles of Ali the slave and the hero, Conrad.
Mr. Stiefel, 39, will dance Ali again on Saturday in his last performance with Ballet Theater, just eight days after Mr. Corella, 36, bid farewell to the company with a performance of "Swan Lake." Both men are leaving for the same reason; each is currently running a ballet company. Mr. Corella leads the Barcelona Ballet, a company he founded in 2008. Mr. Stiefel became the artistic director of the New Zealand Ballet last year after four years as dean at the North Carolina School of the Arts.
It was simply too hard, both men said, to fulfill both roles well.
"I've been thinking about this for the last two or three years," Mr. Stiefel said in a telephone interview. "The discipline, time management and energy needed to function as a principal dancer, and do another job, is incredible. I'd love to dance forever, but I want to leave when I am still giving performances on a high level. I don't want people to see me eroding in front of their eyes."
Mr. Corella too cited a desire to retire from classical roles at his peak. "I wasn't feeling like I could give what I used to give," he said by phone from Barcelona, adding that he will continue to dance occasionally with his own company in more contemporary work.
He added: "It wouldn't be fair to either my company or to A.B.T. to continue with something that is practically impossible. The focus switches into worrying about the careers of the dancers, and not about yourself. It's no longer about getting your ballet shoes and pitching up for performance."
The departure of both men, two years after the retirement of José Manuel Carreño, closes a particular era at Ballet Theater: a time when male classical dancers came into their own as not simply equal to the ballerinas but possibly even bigger draws for audiences thrilled by the outpouring of dazzling technical skill, distinctive personalities and extraordinary artistry.
"A.B.T. has always had a history of great male dancers, but the arrival of Ethan, Angel, José Manuel Carreño and Julio Bocca in the 1990s seemed to be a new era in spectacular male dancing," Peter Boal, a former City Ballet dancer who is now the artistic director of the Pacific Northwest Ballet, said in an e-mail. "One of the thrills was that they were all members of the troupe, not temporary imports for the Met season. I know all four were great guys and very supportive of each other, but you couldn't help but notice a little healthy competition as they nailed the ninth and tenth pirouette."
Damian Woetzel, a former New York City Ballet principal, also wrote in an e-mail: "I first saw both Ethan and Angel dance in the late Stanley Williams's class at the School of American Ballet. That to me is the era that is drawing to a close, the great dancers directly influenced by Stanley, who worked on a plane far above technique."
The simultaneous retirement of Mr. Corella and Mr. Stiefel "does feel symbolic," said Kevin McKenzie, the artistic director of Ballet Theater, who hired both men. "They were part of the last two decades of building a new profile of the company. They embodied a notion that risk taking was important, and I think they changed the way a younger generation of male dancers saw themselves."