嗯,今天總算沒有開口閉口雅人桑了.....しばらくはね
畢竟冰皇再現,
上様のおな~り~~~~!
就算是大奧總管的雅人桑也需要稍稍靠邊迴避一下呀 (笑)
2012-2013Season的冰季才剛過半, 進入GP Final 的男子滑冰選手名單竟然是J 家軍天下
(** 這裏非指所謂娛樂圈天團Johnny's 家人馬,而是指的是Japan的男子組滑冰團隊)
羽生,高橋,小塚之外,還有新臉孔的町田,實在是太強了
GP final Men's members
1 Javier FERNANDEZ ESP
2 Daisuke TAKAHASHI JPN
3 Tatsuki MACHIDA JPN
4 Takahiko KOZUKA JPN
5 Yuzuru HANYU JPN
6 Patrick CHAN CAN
今年為了雅人,都沒空寫GP Final的相關觀賽報告哩
另外,羽生小王子也實在是不得了,在剛舉行的日本國內錦標賽中,再次戰勝高橋哥哥贏得冠軍
不過,這不是今天要談的
下回有空再來聊聊 未來會成為雅人桑早稻田大學學弟的冰上小精靈的羽生結弦吧(**影迷就是有本事把雅人桑扯進來~~~)
現在還是要回到本版super重量級的冰皇再現...
(*Plushenko先生,冰迷並沒有提到你的體重喔...
因為近來冰迷連吃大餐又吃宵夜的 體重一下子爆升是沒資格說別人的...***)
有時看到冰皇也真的憂喜參半
喜的是他在冰上真的是睥睨四方帥極了
憂的是一再的開刀上場,上場後再開刀的循環,
為了這種所謂的國家使命實在是止痛針打不完呀
不過,只要他一上場
真的就是那道光~~~~~~個人的魅力光環,實在是之後的後生小輩無法趕上的
為了Sochi冬運,冰迷雖然希望看到冰皇一展雄風,
不過看到羽生小王子 那種青春就是本錢的輕盈,真的......
會有點擔心,真的需要冰皇如此的賣老命嗎?
好啦,不說喪氣話,還是要為老兵不死的冰皇大大的鼓勵
恭喜冰皇拿到第十座的俄羅斯冰上男子冠軍金牌
放鞭炮吧~~~~~~~

Plushenko wins tenth title at Russian Nationals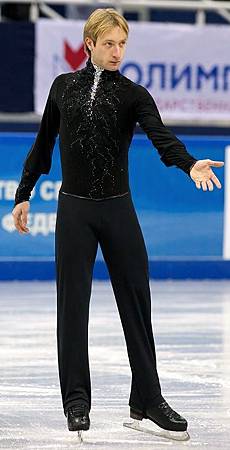 以下只選冰迷想看的關於冰皇的報導
Just for reference :data from Goldenskate.com
2012-1225 news
Plushenko exceeds his expectations at Russian Nationals
Evgeni Plushenko has taken the first step towards winning his tenth national title at the 2013 Russian National Figure Skating Championships in Sochi. He won the Men's Short Program event by finishing four points ahead of Sergei Voronov. Maxim Kovtun is currently third.
On the paper, Plushenko's performance does not look all that impressive: only a quad-double combination and no level four spins or step sequences. In reality however, it was a powerful reminder that no matter how many competitions he misses, the 2006 Olympic Champion still remains one of the most steadfast and reliable competitors, capable of enchanting the audience by the sheer strength of his personality.
Despite much publicized collaboration with Kenji Myamoto and Pasquale Camerlengo this summer, Plushenko's program set to a tango arrangement of Vivaldi's Four Seasons was not markedly different from his previous routines. Some will most likely revel in this fact, while others will undoubtedly point out all well-known flaws.
However, according to the skater, doing even that much was a challenge.
"It went very decently. I am quite happy with the job I have done," he said about his performance. "Tomorrow will be another day, though, so it is too early to celebrate. I still have to skate well tomorrow."
"Naturally, there are things which I could have done better in the short program," he admitted, "but overall I am satisfied that I have landed the quad.
"I have only resumed doing quads here in Sochi," he explained. "A month ago, I underwent a surgery and it resulted in a major drop in my physical conditioning. So it was only here, basically yesterday and today, that I managed to land a first couple of quads. I am especially happy that I did it, even though I failed to land a clean one during the warm up."
"I have decided not to risk going for a quad-triple even though I could have done it," the 30-year-old added. "I think I have fulfilled all my goals for today. I am very happy."
The judges were obviously happy with his performance as well. He posted 91.66 (44.83/46.85) points and did not receive a program component score below 9.00, picking up three 10.00 for Performance/Execution, Choreography and Interpretation from one of the judges. The student of Alexei Mishin credits intense training early in the season for his recent bout of health issues.
"I have attempted too many jumps early in this season," Plushenko stated. "I started to land quad Salchows, begun working on the quad Lutz… I am not young any longer."
"Truth to be told, I have already forgotten when I competed healthy," he lamented. "Fortunately, I know pretty well how to skate while injured, through pain. I have year of experience in tolerating it."
"For me it was my maximum," he added. "Initially, the plan has been to deliver the same content as the one I had in Sheffield, which was a triple Axel, triple Lutz – triple toe loop combination, and triple loop. But I managed to land a couple of quads here and it told me that I am borderline ready for it. So we have decided to attempt a quad. It was a risk, but we have decided to go for it."
The skater remains vague about his plans for the rest of the season.
"For me the most important season is the next one," he claims. "Everything else is transitory. I do not want to get ahead of myself. If I am healthy enough I will compete at the European Championships and then we will see. May be I will make a trip to London too."
2012-1226 news
Plushenko wins tenth title at Russian Nationals
Evgeni Plushenko won his tenth title at the 2013 Russian National Figure Skating Championships in Sochi. Sergei Voronov came in second, 12 points behind Plushenko, while Konstantin Menshov pulled up from sixth place to win the bronze.
In Sochi, Plushenko's rendition of Saint-Saens' Rondo Capriccioso and The Swan was more coherent than the first draft of the routine presented at the National team test skates in September. However, the performance was an uphill battle for the skater, who won his fist national title back in 1999.
"I am very happy with my performance, but I had to fight for it," admitted the 2006 Olympic Champion. "Yesterday, I said that the long program would be much harder and the prediction turned out to be true. My back ached and I had to skate through this pain."
The protocol of his performance is another testament to his skills as a competitor: even in pain and under duress, he was able to produce a slightly flawed quad toe loop (he two-footed the landing), two triple Axels, and four more triples. Most of his spins were rated level two, however, and therefore he only earned the second highest technical sum of the night.
Nevertheless, his program components scores, including three 10.00s, put him into a comfortable first place with 174.26 (79.74/94.52) for the free and 265.94 points in total.
"This long program exists in two versions," he told the press. "Today's was the simplified one. The other one features two quads and more jumps in the second half of the routine. However, because of injuries, I had to settle for the easier one. I will try to get some mileage out of the more difficult one now."
The 2012 European Champion said that he had even entertained the thought of withdrawing.
"The preparation period was very difficult," said the 30-year-old. "I started very late and things were hard for me, even basic triples presented a challenge."
"Overall I am happy, but there is still a lot of work to be done," Plushenko summed up. "Obviously, I know that such a performance is unlikely to be competitive at the European Championships, so I need a miracle now. I need to recover, to heal my injuries. The most important thing is to be healthy. Healthy, I can go on for a long time."
Even through an earthquake, his thoughts were on skating.
"I was not able to fall asleep, so I know that there was an earthquake at 2:30 am," he revealed. "I only fell asleep at about 3:30am. For roughly a minute and a half all hangers in the wardrobe were rattling. I thought I had a guest. My first thought, though, was 'what if you are skating at the time, if you are setting up for a jump?' Imagine, suddenly everything shakes. Or you are doing a spin. You can travel a very long distance. So I hope that at future events here, there will be no earthquakes during the competition."
His first experience of an earthquake is also from Sochi while visiting friends.
"I was in a swimming pool," he shared. "There was a metal fence surrounding the territory, and it started to shake vigorously. At first, I though that there must have been an eighteen-wheeler passing nearby, after all, there are construction sites all around, and that it dropped something heavy and now this load is rolling towards us and it going to crush us. It was my first experience of such a strong earthquake. In Japan, I was once at a 36th floor when the building suddenly started to wave, but in Sochi it was more pronounced."