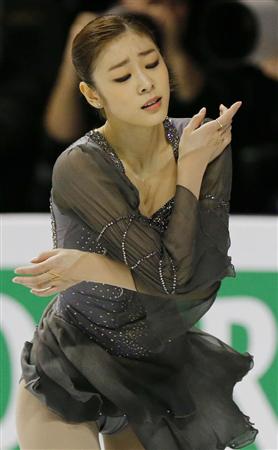 金妍兒 溫哥華冬運奪金後休息兩年後重返世界舞台
再度以超過200分的高分奪得金牌
雖然在技術面上打的是安全牌,可是完美無瑕到讓人無話可說
她跳躍時的穩定 讓人有看當年冰王子跳躍時的感覺 輕鬆簡單又大方
而表演時的強大氣場 也是十足女皇模樣
悲慘世界的選曲也剛好搭上近來的電影風
最後一位上場 在表演完後觀眾們的全場起立致敬 讓人動容
好一個Yuna Kim
***她可是在運動場上 運動迷目前唯一感覺不會抱有先入為主偏見的韓國人呀....哈哈哈
不然只要遙想起日韓WC2002,球迷就會....ooxxooxx個沒完沒了.....***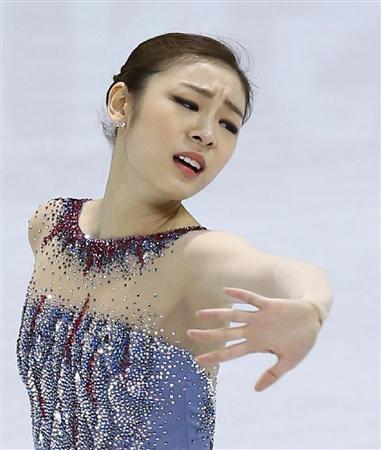 短曲也同樣拿到第一
女子個人金銀銅得主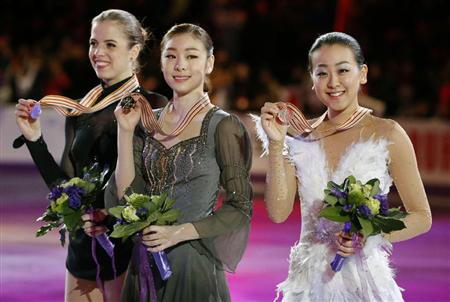 淺田真央在短曲雖然滑得不夠好 長曲的表現還是讓她逆轉局面奪得銅牌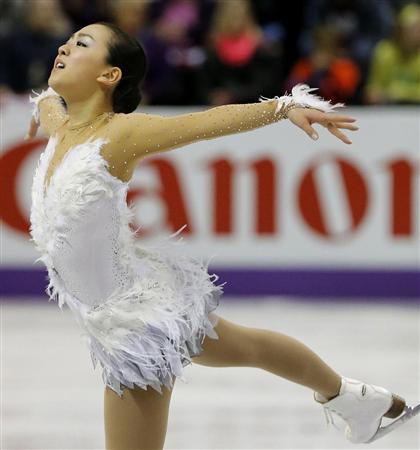 Yuna Kim (KOR) strikes gold
Yuna Kim of Korea struck gold as the competition at the ISU World Championships 2013 wrapped up. Italy's Carolina Kostner took the silver medal while Mao Asada of Japan rose from sixth to claim the bronze.
Performing to "Les Miserables", Kim reeled off a triple Lutz-triple toe combination, triple flip, three more triple jumps as well as three level-four spins and level-four footwork. The Olympic Champion scored 148.34 points and racked up 218.31 points overall to win her second World title and her fifth medal at the ISU World Championships. "I was nervous in the six minutes warm up, but since I skated sixth and last in the group I had time to calm myself down. I am happy that I was able to skate a clean short and long program", Kim told the post-event press conference.
Kostner hit a triple Lutz, triple flip-triple toe and two more triples as well as difficult spins and steps in her "Bolero" routine, but fell on an under rotated triple Salchow at the very end. The 2012 World Champion had to overcome a nose bleed that started just before her performance. Kostner collected 131.03 points, a seasons best, and accumulated 197.89 points to take home her fifth World medal. "Coming here I didn't know what to expect. No I can go home with a medal and it is great feeling. Last year I reached a dream that I almost had given up. This year I was able to live it a bit. It was my 11th World Championship in a row and already this was a special feeling", the 26-year-old said.
Asada went for a triple Axel right out of the gate in her "Swan Lake" program but two-footed. The two-time World Champion rallied back to land five triples including a double Axel-triple toe combination and got a level four for one spin and the footwork. The reigning Four Continents Champion scored a seasons best of 134.37 points and was ranked second in the Free Skating. Overall she scored 196.47 points. Asada took her fourth World medal. "Going into the free skating, I wanted to execute all my jumps, but I couldn't. I hated the fact that I didn't do the triple Axel and the triple-triple combination, but I was able to switch my mindset and nailed it in the second half of the program. I am happy with my season", the 2010 Olympic silver medalist commented.
1 Yuna KIM KOR218.31 1 1
2 Carolina KOSTNER ITA 197.89 2 3
3 Mao ASADA JPN 196.47 6 2
4 Kanako MURAKAMI JPN 189.73 3 7
5 Ashley WAGNER USA 187.34 5 6
6 Gracie GOLD USA 184.25 9 5
日本羽生小朋友 拖著一身病體與會
在無法充足練習下 最後還打止痛藥上場卻又止不了痛
硬著頭皮上陣,還好前頭兩個四圈跳給他硬是熬過去.....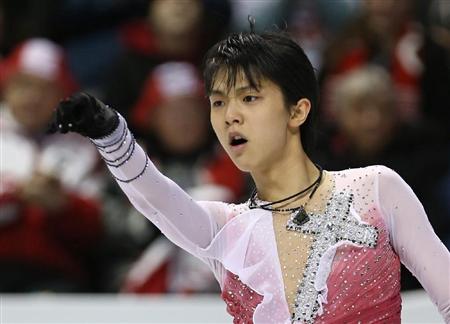 摔 似乎是本次男子組的特色 好像"冰瘟"一樣 大家傳染來傳染去
這次男子組大家摔的摔 跌的跌 讓冰迷看得膽戰心驚 一點都不舒服
金牌的地主隊陳先生 要不是短曲飆高分 長曲前頭兩個四圈跳之後 也是灰頭土臉摔個不停
雖然最後還是拿到金牌 可是摔跤天王的印象還是存在 冰迷是說自己這樣想的啦.....
西班牙金童 Fernandez 在短曲發揮不理想 還好在長曲逆轉成功 奪得銅牌
一直以來就以四圈跳高難度為目標的他 這次的編排也是十足的金牌志向
只可惜短曲沒有滑好 要不然的確能夠衝得更高
銀牌得主Denis Ten 賽前沒有獲得多大的關注 可是表現穩定就能贏人
日本男子三人組在四大陸表現就已經有點不夠穩定了 沒想到在這次世界大賽還是沒調整過來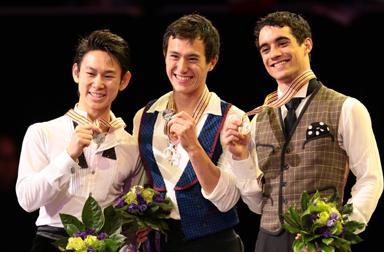 Patrick Chan (CAN) captures gold medal
Patrick Chan of Canada captured the gold medal. Denis Ten of Kazakhstan won silver, the first ISU Championships Figure Skating medal for his country and Javier Fernandez rose from seventh to earn the bronze. It was the first medal for Spain at an ISU Figure Skating World Championship.
Chan's program to "La Boheme" was highlighted by a quad-triple toe combination, another quadruple toeloop and difficult spins and footwork, but he fell on a triple Lutz and underrotated triple Axel. Chan was ranked second in the Free Skating with 169.41 points but overall held on to first place at 267.78 points to win his third consecutive World title. "It was good at beginning, I did two beautiful quads. The Lutz scared me, I lost momentum", the 22-year-old said. "I feel good, will enjoy this day, week. It's where I want to be heading into Sochi. I think the audience saved me. It is a two-program competition. I am thankful for that beautiful short program. Maybe I'm saving the long for the Olympics", he added.
Performing to "The Artist" soundtrack, Ten reeled off a quadruple toeloop, a triple Axel-triple toeloop, another triple Axel as well as three more triples and two level-four spins. The skater from Kazakhstan earned a personal best score of 174.92 points and was ranked first in the Free Skating. Overall he racked up 266.48 points and remained in second place to win a historical medal for Kazakhstan. "My dream has come true and I still can't believe it all happened. I had rough skates this season; I had truly a hard time. When I did the quad I felt everything is going like my plan", Ten commented.
Fernandez landed a quadruple toeloop, quadruple Salchow and five triples including an Axel in his Charlie Chaplin routine. He picked up 168.30 points and moved up to third at 249.06 points. "Today's program was a little bit of everything. I had a great start, but also made some mistakes; I had some good jumps and some bad jumps as well. I am happy this season is done, it was a great season for me, I won many medals. It's great to see how the work that you put into it actually starts to work. Now we have to get ready for next year and stop doing those little mistakes", the European Champion explained.
2012 World bronze medalist Yuzuru Hanyu (JPN) pulled up from ninth to fourth with a strong Free Skating at 244.99 points. Four Continents Champion Kevin Reynolds (CAN) slipped from third to fifth as he underrotated three jumps (239.98 points). Grand Prix Final Champion Daisuke Takahashi (JPN) finished in sixth place (239.03 points).
1 Patrick CHAN CAN267.78 1 2
2 Denis TEN KAZ266.48 2 1
3 Javier FERNANDEZ ESP 249.06 7 4
4 Yuzuru HANYU JPN 244.99 9 3
5 Kevin REYNOLDS CAN239.98 3 7
6 Daisuke TAKAHASHI JPN 239.03 4 8
7 Max AARON USA238.36 8 6
8 Takahito MURA JPN 234.18 11 5
9 Brian JOUBERT FRA 232.26 5 10
10 Michal BREZINA CZE 229.00 6 11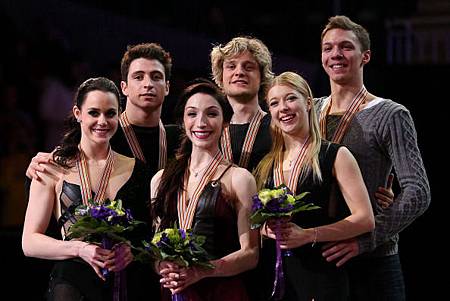 冰舞果不出其然 地主寵兒追不回短曲的失分 還是讓同門的美國組奪金
近年這兩隊的競爭 往往都以些微的差距決輸贏 有這種良性的競爭其實對雙方都是好事呀
Meryl Davis/Charlie White (USA) dance off with gold
Meryl Davis/Charlie White (USA) danced off with the gold medal. Canada's Tessa Virtue/Scott Moir earned the silver medal and Ekaterina Bobrova/Dmitri Soloviev of Russia captured the bronze medal.
Davis/White's performance to "Notre Dame de Paris" was highlighted by intricate footwork and difficult lifts. The 2012 World silver medalists earned a level four for the lifts, twizzles and the spin and a level three for the two step sequences to pick up 112.44 points and totalled 189.56 points to take their second world title since 2011. "First of all, we are really proud of our skate, a lot of fun out there. We have to celebrate these moments, there is not an infinite amount of them. And you have to do your job but we had a special moment. We accomplished all of our goals in this competition. We are looking forward to the challenge of next year and making the most of it, we would like to win the Olympic gold medal so you know it's just back to work now and that's fun and exciting and something to look forward to really pleased", White said.
Virtue/Moir completed innovative lifts and strong footwork in their passionate "Carmen" program to post a seasons best of 111.17 points. At 185.04 points overall, they remained in second place. "We are very happy with our skates this week. We were strong, we had the right approaches and we feel these are performances to build on for next year", Moir commented. "We are competitive, we like to win, it's tough to take. We held nothing back in both performances. We had strong, innovative material, this will help us for next year", he noted.
1 Meryl DAVIS / Charlie WHITE USA 189.56 1 1
2 Tessa VIRTUE / Scott MOIR CAN185.04 2 2
3 Ekaterina BOBROVA / Dmitri SOLOVIEV RUS 169.19 3 4
4 Anna CAPPELLINI / Luca LANOTTE ITA 168.04 5 3
5 Kaitlyn WEAVER / Andrew POJE CAN166.20 6 5
6 Nathalie PECHALAT / Fabian BOURZAT FRA 165.60 4 7
以上data from 大會官網及ISU官網