以下是Legris和Ganio兩年前---2005年8月---到日本公演時,
The JapanTimes 8月24日的一篇英文報導,內容寫得頗唯美精彩!
一堆地方都讓人很想要畫上重點尋開心.....
,

紐瑞耶夫的孩子們...Legris這群人慢慢淡出舞台,未來就是年輕一代的天下了.
其實可以看出,巴黎歌劇院這些年有心要拉拔Ganio成為Legris的接班人吧!
畢竟,才剛登上首席舞者的位置就有機會將公演內容完整的拍成DVD發行的幸運兒不會太多吧!
(***嘿!...最近才知道,當時仙女這部舞碼要進行影帶發行拍攝時,原本的主角其實是Legris大哥,只是臨要上陣時受傷,才讓Mathieu能在剛當上舞星就有機會上鏡,留名留姓呀,他真是個幸運兒!)

如果去巴黎,真的要安排去看一場巴黎國家歌劇院芭蕾舞團的公演
下一次可以介紹一本小小的導遊書,其中以巴黎歌劇院為中心,有美麗舞星們的素顏專訪,也有美美的法國餐廳介紹,真的頗為秀色可餐....一講到這就會好想要吃...cake...

Aug.24,2005

From two dancers, two princes
By AKIKO SHIMADA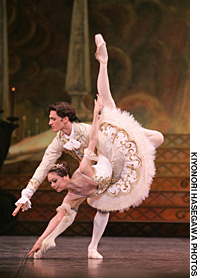 上下圖是這篇報導原先就附上的照片, Ganio在前,Legris在後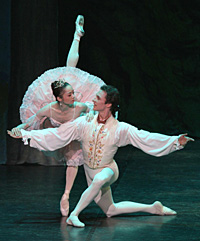 What do you expect from a danseur noble? Elegant posture, good looks, graceful manners, stunning technique or all of the above? Only a few dancers can fulfill all these requirements, but the two guest stars of Tokyo Ballet's recent production of "Sleeping Beauty," Mathieu Ganio and Manuel Legris, were the perfect picture of ballet princes.

Ganio and Legris, two of the Paris Opera Ballet's top dancers, turned the Tokyo Bunka Kaikan in Ueno into a fairyland for four nights. Ganio, playing the Prince Desire on Aug. 17 and 19 with Mizuka Ueno as the Princess Aurora, and Legris, who took on the part Aug. 16 and 18 with Reiko Koide, are both noble dancers, but they portrayed the role quite differently, making the most of their individual strengths.
In Tchaikovsky's classic ballet, Princess Aurora is spellbound by the evil Fairy Carabosse and put to sleep on her 16th birthday. A hundred years later, the good Fairy Lilac shows her vision to Prince Desire. The Prince, falling in love with her at first sight, defeats Carabosse and breaks the evil spell with a kiss on the Princess' lips.
Ganio is a sweet-looking dancer, perfect for a fairy tale -- but he's not just another pretty face. He has been a focus of ballet fans' attention since last May, when he was promoted straight to etoile, the highest rank in the Paris Opera Ballet, completely skipping the second rank of premier danseur. The son of Dominique Khalfouni, a former etoile at the Paris Opera Ballet and Roland Petit's muse at the National Ballet of Marseilles, and Denys Ganio of the National Ballet of Marseilles, he has a well-proportioned body and an innate sense of movement. With his father's stylish manner and his mother's shapely legs, his appearance on stage can light up a whole theater.
In "Sleeping Beauty," the 21-year-old Ganio used his youthful energy to good advantage, portraying the Prince as an innocent adolescent looking for true love. At first, his Prince exhibits juvenile melancholy, but after seeing Princess Aurora in a vision, he is filled with hope, and in the end, conquers the evil Fairy Carabosse with his youthful passion. Though Tokyo Ballet's production of this ballet did not actually highlight Prince Desire's coming-of-age, Ganio admirably laid out how the Prince's sentiment and sensibility shifts.
Technically, he charmed the audience with dynamic jumps in his solo variation, his tall, limber figure evoking the true art of the choreography. Nonetheless, though he has already made it to etoile, he is still a young, developing dancer. His artistic and physical support for his partner is not stable enough, often forcing her to take the lead. This was certainly true for this program, where Ueno, a star dancer at the Tokyo Ballet, sometimes took the initiative in the grand pas de deux (a dance for two), even when Ganio was lifting her. He also looked a little tired after one sequence of jumps and turns.
But these weak points make him all the more interesting as a dancer, as it means he has the potential to become even better. In fact, he has made a lot of progress since his debut in Japan last July, when he was a visibly nervous new etoile.
In contrast, Legris, also an etoile, is already a well-established performer. Widely recognized for his ability to support a partner, he made a fantastic match with Koide, a rising star in the Tokyo Ballet.
Legris' Prince is a more mature, stately man who cherishes the Princess. While Ganio showed young, passionate love, Legris expressed a love that envelops the Princess gently. Through the grand pas de deux, his eyes showed genuine affection, almost like that of a brother to a little sister. Cherished by Legris' Prince, Koide's Princess Aurora shone with joy.
This was Legris' first performance in a grand ballet since recovering from an injury, and he does not yet appear to be in perfect physical condition -- his movements were not so smooth when lifting Koide during the adagio. But this detracted little from his magnificent performance, and he made sharp turns and powerful jumps, with Koide appearing to give him her complete trust.
Legris is an orthodox, traditional ballet dancer who is true to the basics, but what differentiates him from other dancers is his presence. In the mid-'80s to early '90s, when Patrick Dupond, a very individualistic dancer, enjoyed huge popularity at the Paris Opera Ballet with his unconventional dancing style, textbook dancers like Legris were rather overshadowed. However, instead of going in for the ostentatious, acrobatic dancing that easily appeals to the public, Legris chose to build on the abilities he had already acquired, and, with age, has increased his sophistication and improved his accuracy, vitality and expressiveness.
Now in his prime, he has become one of the few dancers who can create an overwhelming presence on stage and is able to suggest subtle nuances without resorting to exaggerated gestures. For "Sleeping Beauty," he gave off a heroic aura, which electrified the whole show.
Some people question whether Japanese ballet companies should invite guests from overseas, depriving Japanese of opportunities to play leading parts. But the infusion of the foreign stars resulted in the great success in this production of "Sleeping Beauty."
As if inspired by the etoiles, the Japanese dancers put on brilliant performances. Naoki Takagishi, Kazuo Kimura, Haruo Goto and Seiji Nobe -- the Tokyo Ballet dancers who played the four princes who also woo Princess Aurora -- were a strikingly powerful ensemble. Some of them could have easily played the role of the Prince, and they gave off sparks on stage.
The two etoiles each created individual princes. As you would expect, their ages determined to a great extent the way they played their roles: Ganio's young Prince is willing to enthusiastically attack evil without hesitation and is exuberant at finding first love; Legris' more mature Prince is hesitant at killing and stately in romance. But both offered the excitement of seeing live two shining examples of what an eoile is.